What is a VIN number (Vehicle Identification Number)?
A vehicle identification number (VIN) is a unique code that every car has. Car manufacturers started using them in the middle of the 20th century, but there were no strict standards, so all manufacturers constructed their VINs as they liked – different lengths, meanings, etc.
A current standard was issued in 1981, requiring vehicle identification numbers to be 17-characters long and without O (o), I (i), and Q (q) letters in them, as these are very similar to numbers 0, 1, and 9.
VIN number is divided into sections. Each of them holds unique information about the vehicle's history, features, options list, etc. So, when buying a used car, VIN decoder is a good place to start.
How to Find the Vehicle's VIN Number?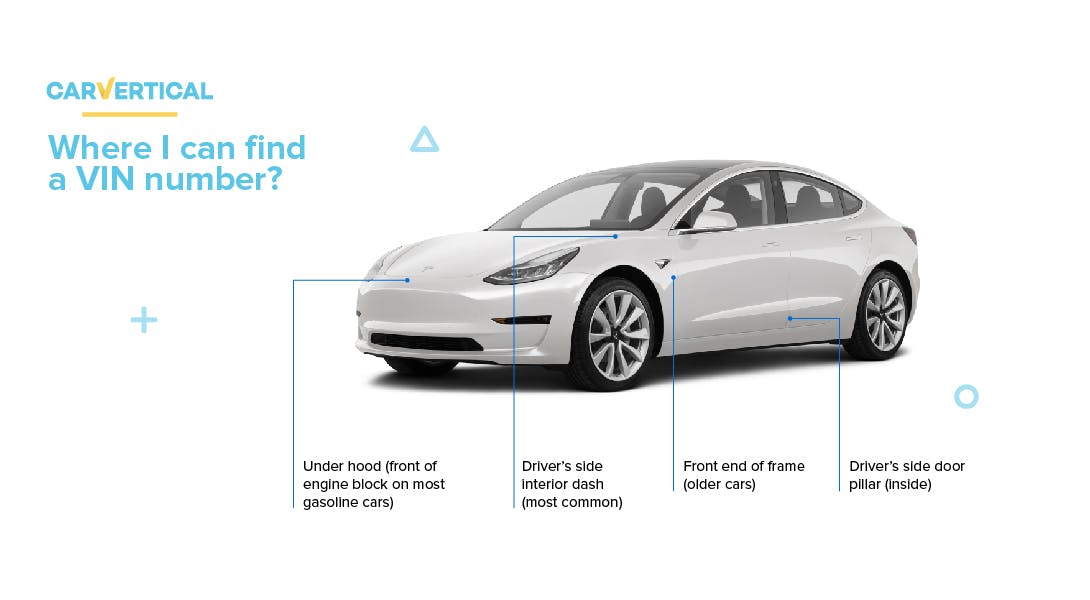 As vehicle identification number is necessary, it's always located in secure places so that no one could damage or remove it accidentally. These are the most common VIN number locations:
Under the bonnet – vehicle identification number is often located in front of the engine block
Driver's side interior dash – in this case, it should be visible through the windshield
Driver's side door pillar – open the driver's door and look for a VIN plate on the inner side of the pillar
The front end of the frame – VIN is often located on the inner front wheel arch, but on older cars only
Firewall – some, especially older, cars have a VIN number on the firewall, which is located between the cabin and engine bay.
These are the on-car locations, but VIN number can also be found in a vehicle title and registration or insurance card. Just remember that all VINs must match.
How to Use the VIN Decoder to Do a VIN Number Check?
Using the VIN decoder is as simple as it can get – enter your vehicle's 17-character VIN where it says "Enter VIN number", and you'll be able to check all available information about a particular car in no time. Damage history, old photos, theft records, even common faults of each model – all of this can be revealed just by entering this number in a VIN decoder.
How to Decode the Vehicle Identification Number (VIN)?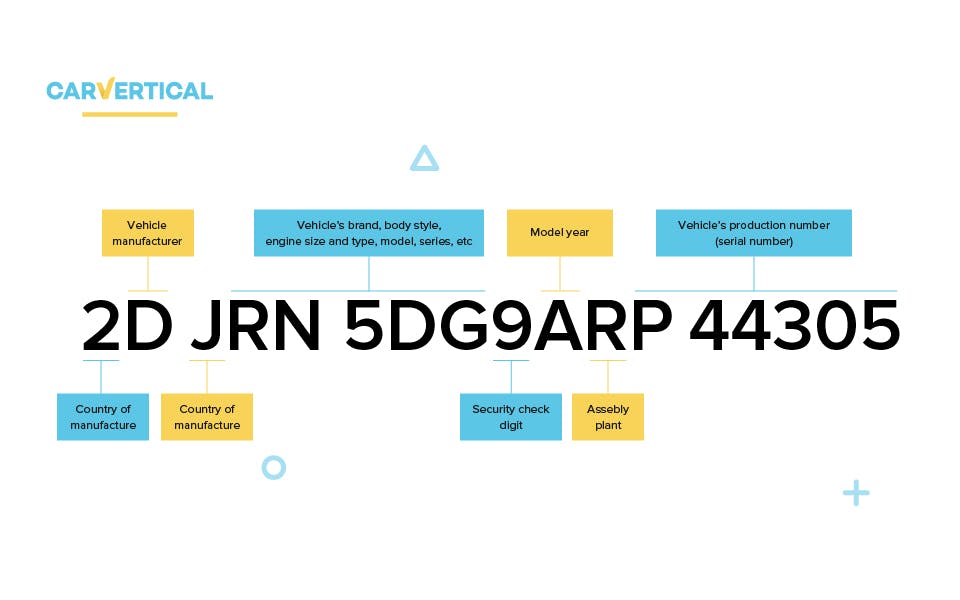 As mentioned earlier, VIN number usually consists of 17 characters, which are divided into four main sections. And it's possible to figure out what each number means even without a VIN decoder.
World manufacturer identifier is the first section, which has three characters. The first one shows the country of origin, and it can vary from number "1" (U.S.) to the letter "Z" (Italy). The second character shows the brand's name. For example, "A" is for "Audi", "B" is for "BMW", etc. And the last one reveals the manufacturer's division or whether it's a sedan, convertible, SUV, or any other body type (there's special coding for each of them, these letters don't necessarily mean the first letter of the word). The structure of the world manufacturer identifier section is a bit different when manufacturer builds less than 1000 vehicles per year.
The second section is the vehicle's description, and it consists of five characters. They hold information about the braking system, series, body style, and engine.
The shortest section is the third one, and it has only one character – a "check digit." It only "checks" the legitimacy of a particular VIN number – putting other characters into a specific mathematical formula should result in this "check digit."
The rest of the eight characters are for vehicle identification. The 10th character is especially worth checking because it shows the model year – "1" is 2001, "2" is 2002, "A" is 2010, "B" is 2011, and so on. The 11th character stands for manufacturing plant – it shows where the vehicle is made. And the last six digits make a serial number.
Why Is VIN Number Important?
VIN is like a person's ID number – it's the main identifier and information holder. VIN number is not only important. It's necessary if you want to drive your car legally. However, it can also reveal substantial information about your car, or about the one you are going to buy.
Buying a used car with no hidden problems and faults is like winning a jackpot in a lottery. But, thanks to VIN check, the chances of hitting that "jackpot" nowadays are way higher.
VIN numbers also are necessary when registering stolen vehicles – this information is available worldwide. So, even if the car you're buying is wanted in another country – a vehicle history report will let you know about this on time.
What Information Does VIN Decoder Provide, and How is it Different from Other Reports?
carVertical VIN decoder scans dealer, repair shop databases, car sales reports, rental companies worldwide and provides you with all kinds of information from regular mileage checks to photos of damages.
Here's what you can get from a carVertical vehicle history report:
Registration and inspection dates
Previous vehicle usage (as a taxi, rental, police car, etc.)
Real mileage
Information and photos of previous damages
Vehicle title checks
Original equipment
Specific model problems and recalls
Country of origin, model year.
You can see what a simple VIN check can tell about your car in our sample report. Don't risk your own safety when buying a used car – put its VIN number in our blockchain-based VIN decoder and unveil potential safety issues and problems right away.