Ducati VIN Decoder
Use the free digital Ducati VIN Decoder to check car specifications. Generate a full vehicle history report with mileage, damages and other recorded car data.
Ducati Motor Holding (a manufacturing division of the Ducati company) is one of the world's leading motorcycle manufacturers, owned by one of the biggest automotive groups – Volkswagen.
Even though Ducati was founded in 1926, motorcycle production didn't start until 1950, when the company began making small single-cylinder machines that were very successful in Italy, Ducati's home country.
Today, there are more than 400 Ducati clubs around the world that appreciate the art of the company's Italian craftsmanship and superbike racing efforts.
What is a Ducati VIN?
The Ducati VIN number (vehicle identification number) is a unique 17-digit code that let's us identify any bike produced by the company.
This number can be used to reveal valuable information, including detailed technical specifications and the vehicle's history.
Unlike the bike's license plate number, a VIN number can't be legally changed or swapped – it's permanently attached to a specific Ducati vehicle. That's why Ducati VIN lookup is extremely useful before buying a used motorcycle.
What does the Ducati VIN contain?
The Ducati motorcycle identification number is divided into 3 segments: the World Manufacturer Identifier or WMI (digits 1-3), the Vehicle Description Section or VDS (digits 4-9), and the Vehicle Identifier Section or VIS (digits 10-17).
Each segment of a VIN number hides specific information about a particular motorcycle:
WMI – lets you know the manufacturer's country of origin and the motorcycle type;
VDS – reveals the detailed technical characteristics (such as engine type and size, net brake horsepower) given by the manufacturer at the factory;
VIS – helps to uncover the manufacturing plant, model year, and includes the sequential production number.
Although you can manually decode a VIN, our Ducati VIN decoder will do everything for you in just a matter of seconds.
Where to find the Ducati VIN?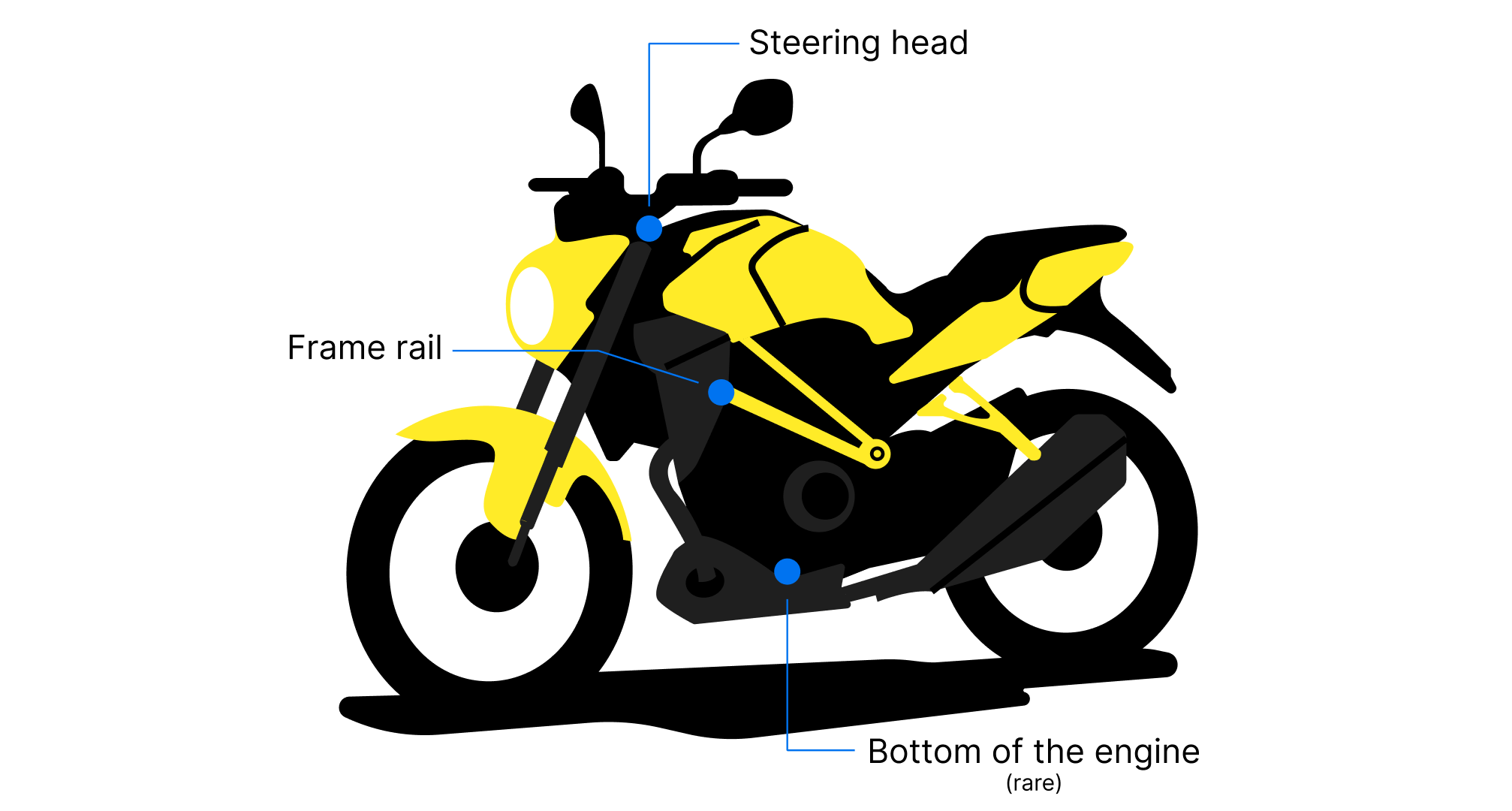 The easiest way to find the Ducati VIN number is to look at the bike's registration documents, insurance cards, or title documents.
Future Ducati owners are, however, advised to compare the VIN in the documents and on the bike's chassis. You may find a VIN number in the following places:
On the right side of the headstock.
The space between the cylinder and the top mount bolt (common in older Ducati motorcycles).
What Ducati models work with our VIN decoder?
The motorcycle industry has used VIN numbers since the 1980s. As a result, nearly all models today are eligible for the Ducati VIN Decoder and history check, including the Panigale, Streetfighter, Supersport, Multistrada, Monster, Hypermotard, and Diavel.
Ducati history check: what can you learn with the Ducati VIN?
You can use a VIN to obtain a full history of your Ducati motorcycle. Since VINs are unique and permanent, they are ideal for storing historical information about a bike. Our history check combines detailed information from government and insurance databases to provide you with a history report, including:
Accident history
Thefts
Cases of odometer fraud
Ownership history
Equipment
Considering Ducati motorcycles are not the cheapest to maintain, any hidden flaw could seriously impact future maintenance costs. When purchasing a pre-owned street model, we recommend using our Ducati VIN decoder. Just note that historical data is not accessible for free.
Vehicle history check
Avoid costly problems by checking a car's history. Get a report instantly.
Trusted by over 1,000,000 people across 50+ countries